Armagh, Banbridge and Craigavon Sports Forum are a voluntary body that provide a voice for local sport. They work closely with Armagh City, Banbridge and Craigavon Borough Council and in particular the Sports Development Department to further aid the development of sport in the Borough. They do this through the delivery of the following key areas:
The purpose of the sports grant aid scheme is to provide financial support to help athletes, coaches and sports clubs from the Armagh City, Banbridge and Craigavon Borough Council area to attain their full potential. To be eligible, clubs or individuals are required to affiliate to the Armagh, Banbridge & Craigavon Sports Forum.
There are six award schemes available:
Club Development Grants:
These will focus on increasing the quality of provision by local sports clubs and improving their operation. Clubs may apply for three of the four elements in a financial year. The elements are:
Clubmark NI Accreditation Grant
Volunteer Development Grant
Grant Aid for Coaches & Umpires/Referees
Representative Sporting Clubs
Individual Grants:
These are focused on improving the performance and sporting achievements of local sports people. The elements are:
Talented Athlete Grant
Leisure Access Card
Sports Bursary Scheme Application
To facilitate in aiding further development of aspiring athletes who reside in the Armagh City, Banbridge and Craigavon Borough Council area and have the ability and potential to bring credit to the borough with success at Provincial level or higher. The sports bursaries are for athletes who have the potential to compete and achieve success at a very high level within their sport.
Please ensure that you read the guidance notes below. For further information please contact Sports Development.
Sports clubs are also eligible to apply under the following Armagh City, Banbridge & Craigavon Borough Council Grant Programmes:
Seeding Grants
Community Development Grants
Capital
Community Events Fund
Good Relations Grants
Every Body Active 2020
For further information, please visit: https://www.armaghbanbridgecraigavon.gov.uk/resident/community-grants/
Our Coach Education Programme provides opportunities for sports coaches, volunteers and administrators to further develop their knowledge and skills. The programme offers a mixture of courses to allow clubs to improve their day-to-day operations, to raise the standard of their coaching and to work towards the Sport NI Clubmark quality accreditation programme.
For more information relating to any of the workshops, please contact: Laura O'Hagan, Sports Development Assistant on 028 4066 0637 or email
Safeguarding Children & Young People
This workshop aims to raise awareness of Child Protection issues in sport and introduces participants to the Code of Ethics and Good Practice for Children's Sport. This workshop is important for all adults involved in children's sport, but is particularly recommended for Coaches, Leaders, Administrators and Officials.
Disability Inclusion Training
This 6 hour workshop has been designed to provide attendees with the knowledge and understanding they need to make their particular programmes, facilities and activities more inclusive of people with disabilities.  Through a range of interactive exercises participants are made aware of the main barriers to participation, and are provided with practical advice and guidance to develop their ability to adapt games and activities to include all ability groups.
Participants will be introduced to a variety of warm-up games, activities and disability sports while given the knowledge of how to make these inclusive for all ability groups. On completion of the course all participants will receive, a Disability Sport NI Certificate of Attendance and a resource pack containing colourful activity cards.
Emergency First Aid for Sport
This 6 hour workshop will cover elements of First Aid applicable to anyone who is responsible for coaching/supervising a team or individuals. A 3 year certificate of competency will be issued following successful assessment.  Attendance at both sessions is compulsory.
This workshop is aimed primarily at Designated Safeguarding Children's Officer's within sports clubs. The training provides them with further understanding to assist in their role of safeguarding children in sport. Attendees must have attended 'Safeguarding Children and Young People in Sport' prior to attending this workshop and must be over 18 years of age.
Coaching Children and Young People
This workshop will help coaches develop creative methods of delivering development stage appropriate coaching session to children that incorporates the 'C' system of coaching; physiological development principles; cognitive development principles; positive behaviour management; games-based learning; and the Youth Physical Development Model.
Delivering Engaging sessions for Adults
This workshop considers how coaches can increase the chances of growing and sustaining participation in new participants, beyond the first few sessions. This will include investigating the needs of new participants and how to build their self-confidence. Ultimately, how people feel about those first few sessions will ensure they keep coming back again and again.
Action Mental Health & Well being for people involved in Sport.
Sport Northern Ireland, in partnership with the Public Health Agency, has engaged with Action Mental Health to offer a 90 minute interactive session that supports the mental health and emotional wellbeing of those involved within Sport Clubs and the wider sporting community. The content of this course explores attitudes, challenging stigma and misconceptions, Mental ill health, Pressure vs Stress, Identifying positive coping strategies, Identifying support networks and signposting people to sources of support.
Clubmark NI is Northern Ireland's quality standard for Sports Clubs. Sport NI works with Governing Bodies of Sport and Local Authorities to deliver the scheme, which aims to identify, develop, accredit and recognise high quality sports clubs.
Clubs and their members benefit through developing an organised club structure, implementation of policies and procedures, by creating a safe environment and parents appreciate the reassurance it brings.
To apply, clubs needs to register online, demonstrate that they meet minimum standards and provide evidence, in 5 key areas:
Effective Club Management
Community Engagement
Quality Coaching and Competition
Creating a Safe Environment
Safeguarding Members
Accreditation is available in 3 categories:
A Junior Club
A Senior Club
A Junior & Senior Club.
For further information, please visit: http://www.sportni.net/clubs-coaching/clubmark-ni/
For support with your application, please contact your local Sports Development Team:
• Armagh Office, Edel Ferson 028 3752 9636
• Banbridge Office, Gillian Dewart 028 4066 0637
Each year, the Armagh, Banbridge & Craigavon Sports Forum works in partnership with Armagh City, Banbridge and Craigavon Borough Council to host the Sports Awards. The awards evenings for both juniors and seniors, bring together athletes, teams, coaches, clubs and volunteers, recognising and rewarding their achievements and celebrating commitment and excellence in participation and performance.
Armagh, Banbridge and Craigavon Junior Sports Awards 2019
The awards ceremony will be held on Friday 27th September 2019 in Craigavon Civic and Conference Centre.
Nominations will only be accepted on the official nomination form and must be completed in full.
Closing date for nominations is Friday 21st June 2019 at 12 noon.
Recent Events
Armagh, Banbridge & Craigavon Junior Sports Awards 2018
Friday 28th September 2018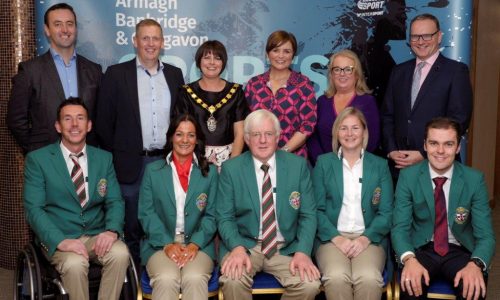 Special guests attending this year's Junior Sports Awards event are:
(Backrow from left) Padraic McKeever and Noel Hegarty (House of Sport, Intersport), Lord Mayor Councillor Julie Flaherty, Denise Watson (UTV Sport), Edith Jamison (Chairperson, Armagh, Banbridge and Craigavon Sports Forum) and Roger Wilson (Council Chief Executive). (Front row from left) Commonwealth Games Representatives including David Kerr, Andrea Nash, Robert McVeigh, Catherine Beattie and Mark Downey.
Volunteer Awards sponsored by House of Sport, Intersport:
Rhys McDonnell, Banbridge & Rathfriland Karate Club; Emma Rankin, Armagh Special Olympics Club.
Sports Person with a Disability sponsored by Armagh City, Banbridge and Craigavon Borough Council:
Joint winners Josh McCauley, Banbridge Special Olympics and Sammy Willis, Ripples Special Olympics
Commended: Billy Wilson, Banbridge Special Olympics Club.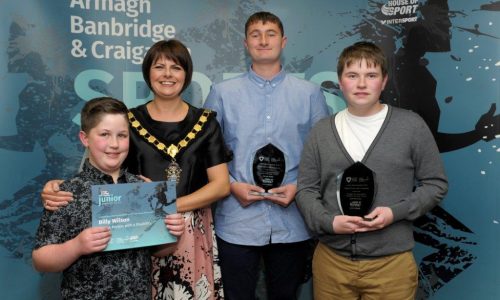 Junior School Team of the Year sponsored by Ian Donnelly Associates:
Tandragee Junior High School, Minor Boys Athletics Team
Junior Club Team of the Year sponsored by Armagh Sports & Trophies:
Derrynoose GAC U14 Girls Gaelic Football Team
Youth School Team of the Year sponsored by Linwoods:
St. Ronan's College, Boys Gaelic Football Team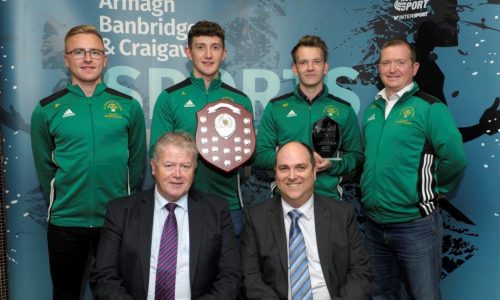 Youth Club Team of the Year sponsored by Donaghys Shoefair:
Portadown Ladies Hockey Club's U15 Team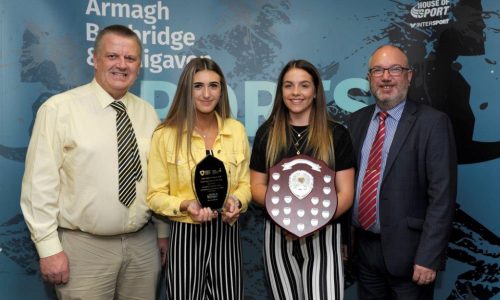 School Coach of the Year sponsored by Sport Northern Ireland:
St. Ronan's College, Boys Gaelic Football Team Mangers. David Wilson, Micky Donnelly & Collie Fegan
Club Coach of the Year sponsored by Sport Northern Ireland:
Mark Evans, Portadown Ladies Hockey Club
Chairman's Award sponsored by Armagh, Banbridge and Craigavon Sports Forum:
Banbridge Academy School teams (Boys Hockey Team, Girls Hockey Team, Girls Double Rowing Team and the Girls Table Tennis Team)
Junior Male of the Year sponsored by Armagh City, Banbridge and Craigavon Borough Council:
Edward Rowe from Tandragee Golf Club / Banbridge Academy Hockey
Junior Female of the Year sponsored by Armagh City, Banbridge and Craigavon Borough Council:
Jodie McKew, Horizon Taekwondo Academy
Youth Male of the Year sponsored by Rushmere Shopping:
Daniel Wiffen, Lisburn City Swimming Club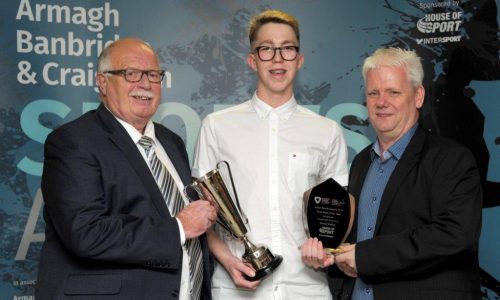 Youth Female of the Year sponsored House of Sport Intersport:
Niamh McKiverigan, Powerhouse Sport (Cycling)