Family Couch to 3k – Let's Do This!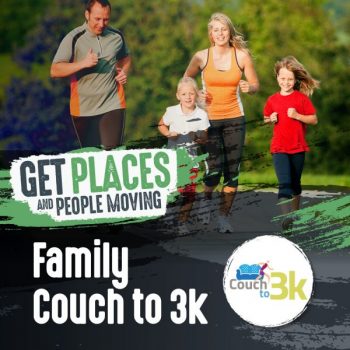 Let's Do This! Shake Up Summer Family Couch to 3K
The getactiveabc team needs your family this summer!
Say goodbye to "I'm bored" and get ready to soak in some smile-friendly fresh air. Say goodbye too to all that screentime and get together for fun, fitness and quality time together at Get Moving ABC's family run programme. This  family-friendly programme, specially designed by Athletics NI to introduce the whole family to running, gets the whole bunch exercising together in a fun and achievable way.
This 5-week programme commences on Monday 19th July and will take place every Monday and Wednesday evening for 5 weeks at Lurgan Park, commencing at 6pm.
FAQ's
WHAT IS THE FAMILY COUCH TO 3K PROGRAMME?
Family Couch to 3K is a fun variation of the well-known Couch to 5K. Athletics NI has designed a programme that will allow the whole family to enjoy walking, jogging or running, each week improving strength, stamina and technique until you can run 3K.
Why not add in a bit of friendly competition and rivalry with 'Dad vs Mum' or 'Boys vs Girls', or even mix it up with 'Mums and sons' vs 'Dads & Daughters'. Why not get granny, granda, uncles, aunts, cousins to join in…the list is endless. Keep track of your results and let us know who's winning, who's flagging [probably Dad lol], and who is starting running maybe for the first time at #shakeupsummer2021.
WHO IS THE COUCH TO 3K FOR?
The Couch to 3K is for the whole family. Children aged four years old and above can join in and under 16-year-olds must be accompanied by an adult.
WHAT DOES THE PROGRAMME INCLUDE?
The programme includes:
A 5-week programme for all ages and abilities.
Walk, jog or run at your own pace.
Graduation run is on Sunday 22nd August 
Introduction to Lurgan Park Junior parkrun.
Water bottle for every participant.
HOW MUCH DOES IT COST?
The programme cost £5.00 per person.
WHERE IS THE PROGRAMME DELIVERED?
The programme starts on Monday 19th July and runs every Monday and Wednesday evening for 5 weeks @ 6 pm.
The graduation run will be on Sunday 22nd August @ 9.30 am as part of Lurgan Park Junior parkrun
WHAT DO I NEED TO WEAR AND BRING WITH ME?
Please come dressed to walk, jog or run. Please wear suitable clothing for the weather conditions on the night and comfortable well fitting trainers.
Please bring a bottle of water with you each night.
WHAT ARE THE HEALTH BENEFITS?
Be a good role model for your children. Most children will follow the lead of their parents and grandparents. If they see their parents and grandparents taking care of their bodies through exercise, they will want to follow in their footsteps. It's important to find activities that you can enjoy doing together as a family.
Running is a great activity to help kids build endurance, which is developed when kids regularly engage in aerobic exercise. Running offers kids a sense of freedom and a sense of reward and achievement when they finish.
While everyone can benefit from regular exercise, kids who are active will:
handle physical and emotional challenges better
sleep better
have stronger muscles and bones
be less likely to become overweight
decrease the risk of developing type 2 diabetes
have a leaner body from burned body fat.
Like so many individual sports that rely on self-motivation and hard work to achieve success, running teaches kids self-respect, commitment and builds self-esteem, all of which are important values for kids to learn and build on in their lives.
While motivating our young ones to become physically active, running can significantly improve adults physical and mental health. As a form of aerobic exercise, running can:
reduce stress
improve heart health
help alleviate symptoms of depression
improve cardiovascular fitness
help maintain a healthy weight.
HEALTH AND SAFETY CONSIDERATION.
Participation in this event is entirely at your own risk. If you have any health concerns, please consult your GP first.
Participants must strictly adhere to current Government advice and guidance in relation to physical activity and COVID-19 including social distancing measures whilst participating in the event.
REGISTER NOW
Use the booking link below to sign up for the Family Couch to 3k