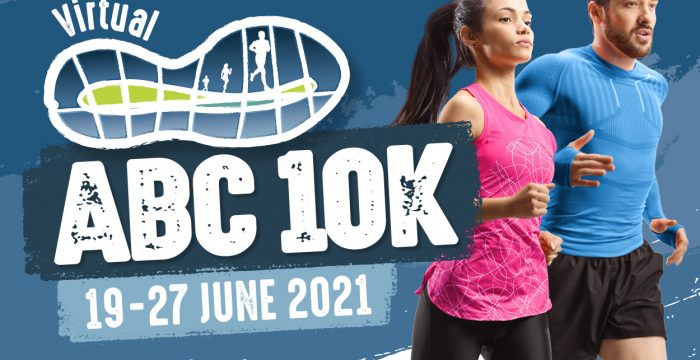 19 – 27 June 2021
Free to enter!
Spot prizes to be won!
Medals for the first 200 registered participants!
The Virtual ABC 10K run is organised by Council and supported by Banbridge Athletics Club and Armagh Athletics Club. Registration is now live and is free to enter.
Participants will have between 19th – 27th June to complete their 10k run using a route of their choice which is safe and suitable for running, jogging or walking.
The first 200 participants to register will be eligible to receive a medal upon submission of evidence of completing the 10k between 19th – 27th June.
There are also a number of spot prizes available for participants including a Getactiveabc voucher, a Café IncredABLE voucher and a Rushmere Shopping Centre voucher. Spot Prizes include:
Best family involvement photo – a photo showing full family involvement in the 10k run
Most creative DIY finish line photo – a photo showing your own creative finish line to celebrate the 10k run in style
Showcasing the 'Best of the Borough' photo – a photo showing the participant making use of the Borough's fantastic parks or open spaces for the 10k run
To be eligible for a spot prize, participants should submit photos along with their submission of evidence of achieving their 10k run/walk to by 30th June. We are encouraging all participants to get creative with their photos.
The closing date for entries is 18th June 2021.
FAQ's
How do I take part in the Virtual ABC 10k?
How much does it cost?
The run is free to all participants to take part.
When is the closing date for entries?
The closing date is Friday 18th June.
How do I receive my medal?
How do I enter for a spot prize?
In order to be eligible to win one of these spot prizes, you must submit a photo or photos along with a screenshot of evidence in completing your 10k. The Sport Development Team will choose a winner for each category from entries received.
What is the minimum age to take part?
We advise that participants should be 16 years and older.
Health & Safety considerations to plan for before your run.
Participation in this event is entirely at your own risk. If you have any health concerns, please discuss with your GP first.
Participants must strictly adhere to current Government advice and guidance in relation to physical activity and COVID-19 including social distancing measures whilst participating in the event.
REGISTER FOR THE EVENT
PLEASE COMPLETE THE REGISTRATION FORM BELOW