Sign-up for the annual Craigavon Lake Run!
May 09, 2022
Spring into action and get your trainers at the ready for the fun-filled annual Craigavon Lake Run!
Taking place on Wednesday 1st June 2022 from 6.45pm, South Lake Leisure Centre will be the venue for this year's event. Participants can take part in the 1k family fun run, 5k, 10k or 10k wheelchair races.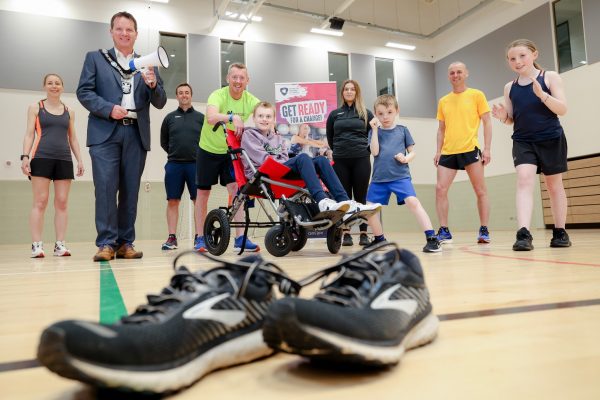 Pictured at the launch [l-r] are Belfast Marathon podium winner and local athlete Gillian McCrory, Lord Mayor Alderman Glenn Barr, race sponsor Padraic McKeever [McKeever Sports], Sean & Jack McKeown, Clodagh McManus from McKeever Sports, Zack McCrory, Belfast Marathon podium winner and local athlete Gareth King, and Zoe McCrory.
Sponsored by Rushmere Shopping Centre and McKeever Sports, and in partnership with St Peter's Athletic Club, the start line will be located at the back gate of Craigavon Civic and Conference Centre leading onto Craigavon lakes path with the finish line in front of the Craigavon Lakes slip way – leading towards South Lake Leisure Centre car park.
You can register online at www.getactiveabc.com/craigavonrun
Entry fees are as follows:
1k Family Fun Run – £3.50 per person
Wheelchair Friendly 10k – £15.00 per person
5k Run – £10.00 per person
10k Run – £15.00 per person
Participants can collect their race packs at Rushmere Shopping Centre from 9.00am on Friday 27th May until 7.00pm on Tuesday 31st May. The race packs will include race number, chip, bib and pin.  Participants unable to collect their race packs from Rushmere Shopping Centre, may collect them from South Lake Leisure Centre on Wednesday 1st June from 9.00am until 6.00pm sharp from reception.
Race start times are as follows:
1k Family Fun run – 6:45pm
Wheelchair Friendly 10k – 6:58pm
5k run – 7:00pm
10k run – 7:10pm
All participants will receive a medal and a goodie bag sponsored by McKeevers Sports. All winners will receive a T-shirt sponsored by McKeever Sports and a gift voucher sponsored by Rushmere Shopping Centre.
Results will be available www.getactiveabc.com/craigavonrun on Thursday 2nd June.