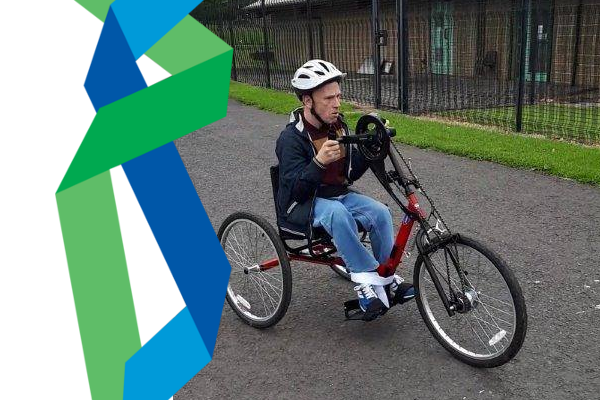 Disability Sport NI recently launched a project which aims to improve the health and well being of people with disabilities in Northern Ireland, through participation in sport and active recreation – and the Armagh City, Banbridge and Craigavon area will benefit greatly.
The 'District Council Disability Sports Hub Project' gave all council areas disability sports equipment packs including: twelve sports wheelchairs, one rugby wheelchair, three track chairs, five hand cycles, four tandem bikes, three trikes, three boccia sets and one sensory activity pack.
Council has now organised a session for anyone with a disability to come along and try out some of this equipment and learn how they can use it on a regular basis to help increase their activity levels.
This project was delivered by Disability Sport NI and funded by Department for Communities via Sport Northern Ireland
Inclusive cycles are available to individuals, families and groups at the following locations:
DSNI Bikes £3.00 per person per session.
Additional bike hire available: Adult £8.00, u17 £6.00
All cycling will take place around the Craigavon Lakes Paths which is Tarmac.
The lakes paths is mostly flat and any rises is short
The lakes paths is also a big loop and would take anything from 20 mins to 1 hour to get round
Experienced staff on site to assist and give advice/guidance on bikes and cycle routes. Bike helmets must be worn and are provided. Cyclists do so at their own risk, groups etc must have their own insurance. Qualified cycle leader can be booked to lead the group at a small cost, contact Golf and Ski. Before hiring bikes all careers or parents must be briefed in how to set up bikes and use them safely.
To find out more info or arrange a viewing before booking please call 028 3832 6606 or email
Inclusive Cycling Tryout Session
A range of inclusive bikes has been funded by the Department for Communities, through Sport NI as part of the Disability Sport NI Council Hub Project. Two taster sessions will be held during the summer to allow people with a disability to try out these new bikes in a small led group cycle.
The bikes include 1 adult hand cycle, 3 junior hand cycles, 3 tandems and 1 adult trike,1 junior trike and a wheelchair transporter.
For the full list of bikes available and instruction videos, click HERE.
Watersports Centre
Craigavon Civic Centre – 1 Lake Rd, Craigavon
Co. Armagh,
BT64 1AS