Cycling – A Journey, Not A Race!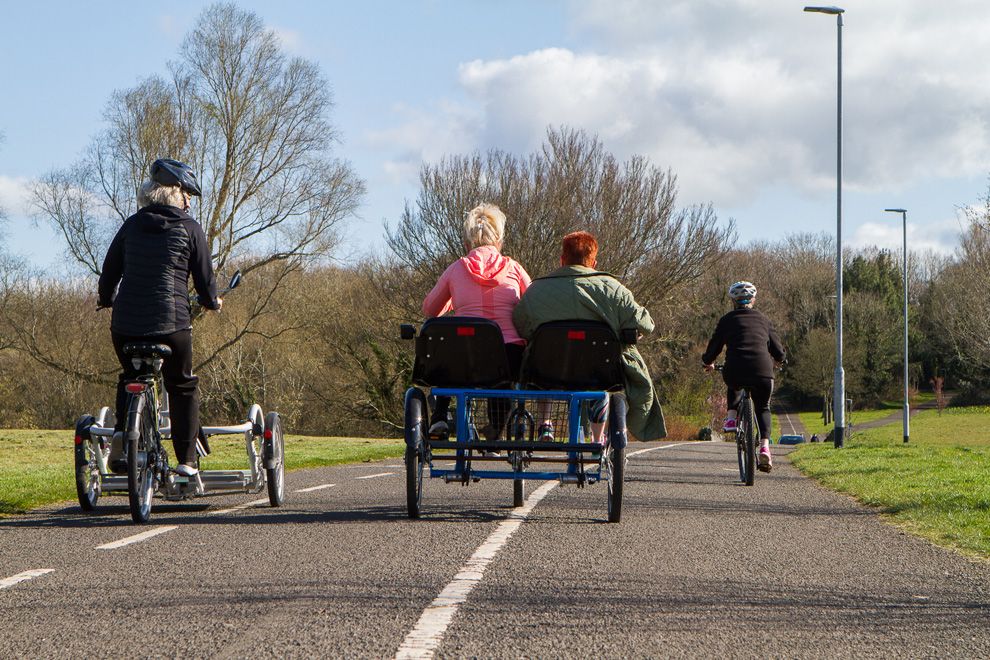 INFORMATION ON THE ABC CYCLE HIRE PROGRAMME AT SOUTH LAKE LEISURE CENTRE
Operating from South Lake Watersports Centre, the Cycling for Health Programme provides low cost, affordable bike hire for individuals, groups, clubs and community organisations.
The cycle pod site at South Lake Watersports Centre offers an array of bicycles, including unisex bikes, bikes for young children, balance bikes and two children's trailers, enabling the whole family to exercise together. Helmets, panniers, repair kits and other safety equipment are also available.
Cost for bike hire is £8.20 for two hours and a £6.20 concession rate but please note that all health and wellbeing programmes i.e. GP Referral have priority booking and no hire charge.
Pre-book a cycling session and enjoy our parks and open spaces, whilst getting active, meeting new people and improving your health and wellbeing.
An Inclusive Cycle Scheme also operates at South Lake Watersports, Craigavon, delivered by Disability Sport NI and funded by Department for Communities via Sport Northern Ireland and providing disability sports equipment packs including: twelve sports wheelchairs, one rugby wheelchair, three track chairs, five hand cycles, four tandem bikes, three trikes, three boccia sets and one sensory activity pack.
COMMUNITY ACTIVE TRAVEL HUB – SOUTH LAKE
INFORMATION COMMUNITY ACTIVE TRAVEL PROGRAMME
Northern Ireland is increasingly facing many challenges of congestion, air pollution, the climate crisis, as well as obesity and mental health problems. We are attempting to tackle these issues by providing practical local support so that more people can become active by cycling.  
At the heart of the community, South Lake Leisure Centre is responsible for delivering The Community Active Travel Programme encouraging residents and community groups across the borough to cycle more as part of everyday life.
This will be achieved through a range of cycling initiatives including cycle hire, inclusive, group and one-to-one cycling fitness sessions, as well as specific sessions targeting women, post and antenatal fitness and the over 50s.
PUMP TRACKS & MOUNTAIN BIKE TRAILS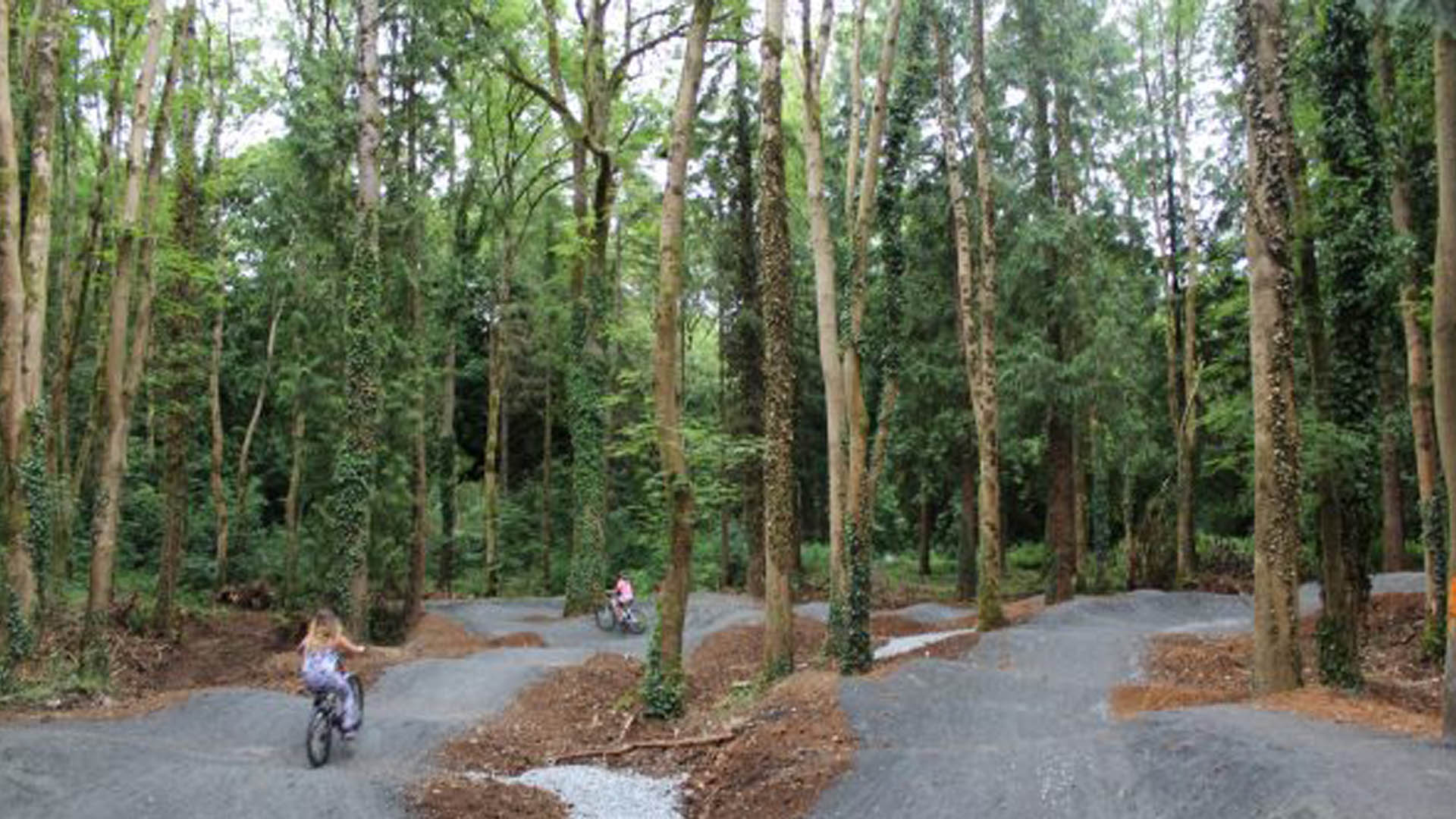 DETAILS ON PUMP TRACKS
A pump track is a looped sequence of rollers and berms (swoopy, banked turns) for bike riders. It's designed to maximize your momentum, so you can ride it with minimal pedaling.
It's kind of like a small rollercoaster that you can ride on. It's a tool to increase your handling skills on the bike, and it's also something that's really fun to ride.
The beauty of a pump track is that it's accessible to almost anyone and for all ability levels. You don't have to be an advanced rider—don't be surprised if you see a 2-year-old out there shredding on a balance bike. It's a learning tool that's fun for everyone.
Pump tracks can be found at
Gosford Forest Park 
Stramore Park, Gilford 
Dromore Town Park
CRAIGAVON LAKES MOUNTAIN BIKE TRAIL
This 10km trail meanders through broadleaf woodlands, wildflower meadows and along the lake shoreline. The trail utilises the landscape contours and the natural habitat around the park to create a challenging and also scenic riding experience.
The trail is suitable for all cyclists with basic off-road riding skills. The majority of the trail is purpose built singletrack linked with some wider tarmac sections. Some sections are more challenging than others and may include obstacles such as roots and rocks with some sharp turns. This route is 100% traffic-free. At some points the mountain bike trail can cross and follow sections of shared path where there may be people with children, dogs or other cyclists.
GOSFORD FOREST PARK MOUNTAIN BIKE TRAIL
Discover the stunning wider forest by following the Gosford Forest Park green or blue graded family mountain bike trails, including optional technical sections, a skills loop and a pump track.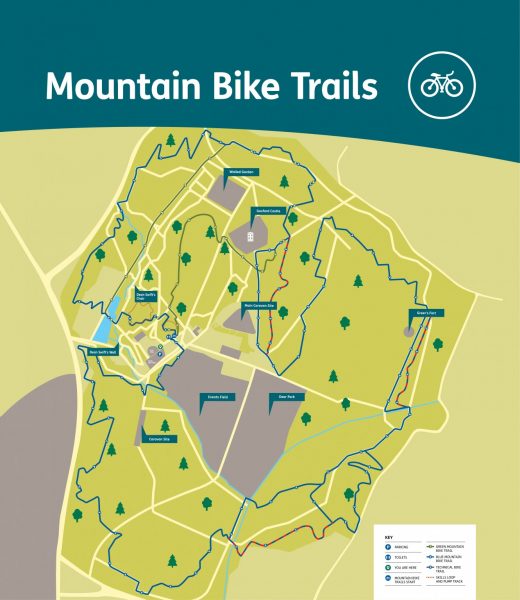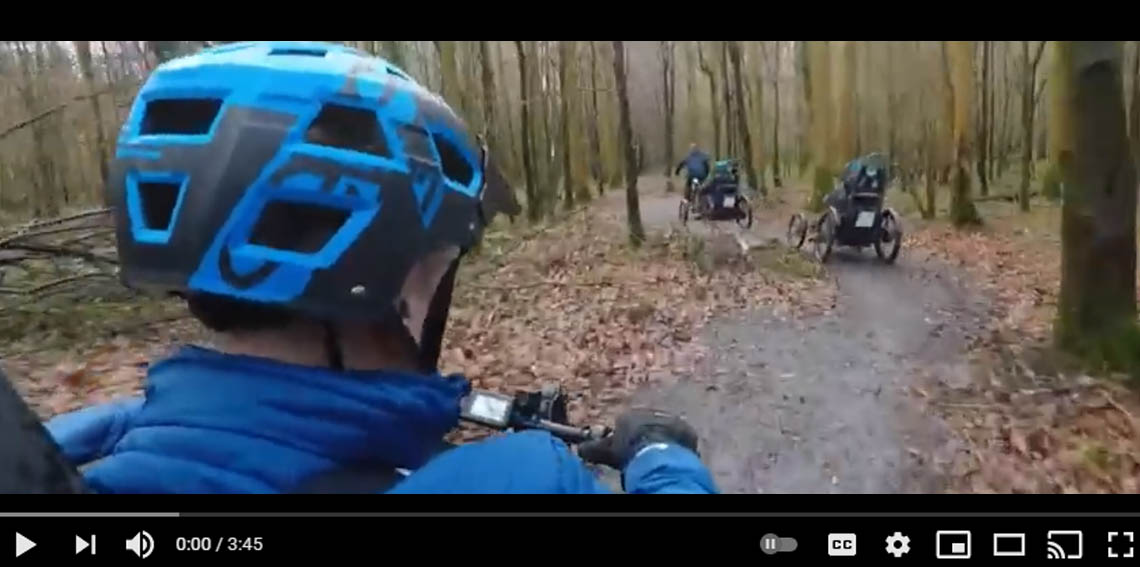 DETAILS ON ALL OUT TREKKING
This exciting new initiative delivered by Disability Sport NI and Armagh City, Banbridge and Craigavon Borough Council provides an inclusive opportunity for people of all abilities to get out into the heart of a beautiful woodland and access Gosford Forest Park's walking and mountain biking trails together.
The project is the first of its kind in the United Kingdom and Ireland using the TerrainHopper and Quadrix all-terrain buggies that are suitable for people with a disability, long term health condition or restricted mobility to access off-road terrains. We also have joystick options of both the Quadrix & Terrainhoppers, which may prove more suitable for anyone with reduced hand/arm function.