Your health and well-being is important to us during this time of isolation. Maintaining your positive mental health is vital and we advise everyone to make the extra effort to build these 5 steps into our daily lives. Download flyer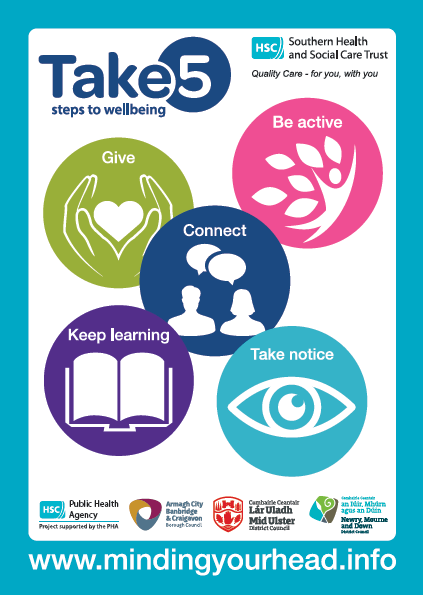 Welcome to our facility closure frquently asked questions, hopefully you will be able to find the answers you need on this page.
Apologies if you have been directed here after calling one of our facilities, you will appreciate that in the current climate it is very difficult for us to have a telephony system in place.
We apologise for any inconvenience this has caused you and thank you for your patience at this time.
Update on all Council facility closures
Keep up to date with the ongoing closures of council facilities
Join the getactiveabc mailing list to receive updates
If you are a current member it is important we have your correct details
Leisure Facility Closures - Frequently Asked Questions
Important Public Notice
To support the Government strategy in relation to Covid-19 Armagh City, Banbridge and Craigavon Borough Council has taken the decision to close all its public buildings to the general public from tomorrow 18.03.20.    This includes all Leisure, Sport and Recreation Centres, Community Centres, Tourism, Arts and Culture Facilities and all Town Halls.
The Council will endeavour to provide key services for the citizens of the Borough, and will work to maintain essential delivery to support the local community and businesses during this challenging time.
Application Processes
The three main Civic Buildings, The Palace Demesne Armagh, The Civic Building Banbridge, and the Civic Centre Craigavon will remain open to the public for priority services such as:
Births, Deaths & Marriages
Application processes including Planning, Building Control, Dog Licencing etc.
Environmental Health queries
Access for the public to these buildings will be managed in line with Public Health Agency (PHA) guidance, and social distancing will apply.
Waste Collection & Environmental Services
All household waste collections will function as normal, with Recycling Centres remaining open.
Bins should be left out the night before collections as times of collections may vary. Bulky waste collection requests have now been suspended.
Street cleansing may be impacted and we remind people to act responsibly.
Access to Public Areas
All parks, open spaces and play parks will remain open for community health and wellbeing. However, bowling pavilions, outdoor pitches, tennis courts and changing areas will all close.
All Public Toilets will be closed, with the exception of those available in public parks.
Conferences, Programmes & Events
In the interest of public safety, all Council Conferences and events will be cancelled or postponed until further notice.
All programmes delivered externally will be postponed until further notice.
Memberships & Swimming Lessons
As our leisure and sports facilities will be closed, all 'paid in full' members will have their membership term extended to reflect the closure.
All direct debit memberships will be suspended until further notice and where possible collections scheduled for the 1 and 15 April stopped.
Direct debits collected by Pulse Fitness for Cascades Leisure Complex will be suspended as soon as possible and credit will be given to Members when the centres reopen.
Direct Debits will not recommence until facilities are operational again and members have received the appropriate extensions to their membership.
All centre programmes and courses such as swimming lessons will resume when facilities reopen.
Given the exceptional circumstances there may be an impact on service delivery, however every effort will be made to ensure continuity where possible.
For further information please telephone: 0300 0300 900
Email: 
Log on to www.armaghbanbridgecraigavon.gov.uk/coronavirus
More information: https://bit.ly/3b7fuex 
MONEYPENNY'S FORGE OPEN DAY
Saturday 14th March, 11.00am – 3.30pm, Admission FREE
Dust off the cobwebs and Spring into Action at Moneypenny's Forge. Come on and try fun free activities of all kinds featuring:
| | |
| --- | --- |
| ·         Blacksmithing | ·         Wood turning |
| ·         Farrier demonstration | ·         Fresh soda making |
| ·         Bushcraft | ·         Coracle display |
| ·         Archery | ·         Live spray art |
| ·         Bladesmithing | ·         Live music |
| ·         Leather work | ·         Face painting |
For further information or to book please contact:
Jonny Kerr, Moneypenny's Forge, Horseshoe Lane, Portadown, BT62 3RS
CAN YOU HELP TO SAVE LIVES?
In order to most effectively roll out this programme to the community; we require volunteers from sports clubs and sporting organisations with an interest in training others to register their interest in delivering Emergency Life Support (ELS) training (including CPR) as a Heartstart Instructor and cascade this vital lifesaving information to their communities. A Heartstart Instructor will follow a 'train the trainer' concept where ELS training sessions across sporting organisations will be planned and delivered.
If you are interested, can you please contact Laura O'Hagan at or on Tel: 028 40660637 for an Expression of interest form.
Deadline for returning completed Expression of Interest forms is 28th February 2020 at 5:00pm
With Spring on the way and the lighter mornings and evenings coming in, now is a brilliant time to sign up to Cascades Weight Loss Boot Camp!
The first camp this year was a huge success and the next will begin on Tuesday 25th February from 6.30am to 7.30am and Friday 6pm to 7pm.
Places are limited and will be on a first come first served basis. The camp will last for six weeks and  measurements will be taken at the start and the end – plus you'll earn a t-shirt on completion!
Cost is £10 for members and £40 for non-members.
Contact Cascades on 028 3833 2802 to register your place now!
Frequently asked Customer Question and Answers
Six month countdown to completion of flagship South Lake Leisure Centre
Northern Ireland's newest public leisure facility will officially open in August 2020 following an on-track 2 year build and a multi-million-pound investment.
The largest capital project to date undertaken by ABC Council, and among the largest in Northern Ireland, the new multi-use sports and leisure complex represents a major new flagship health and wellbeing destination.
The stunning new leisure facility will welcome visitors from across the borough and beyond to its new 50-metre pool, a young children's indoor leisure water feature, a 1,000m2 state-of-the-art gym, multiple studios, sensory room, eight-court sports halls, spin studio, soft play area and an on-site café.
The cutting-edge facility also incorporates an outdoor water sports provision offering a wide range of water based activities including windsurfing, water skiing and paddle sports.
The scale of South Lake Leisure Centre has also been future-proofed to meet the needs of a growing population and rising demand for a range of leisure, amateur and professional sporting enthusiasts.
Lord Mayor of Armagh City, Banbridge and Craigavon, Councillor Mealla Campbell, said:
"With a confirmed opening date only six months away, I'm delighted that this stunning new centre which will have fabulous facilities for everyone in the borough to access and enjoy, is almost complete.
South Lake Leisure Centre provides a once-in-a-generation opportunity to transform and dramatically enhance the quality of health and leisure provision within the borough, providing community access for everyone to the best facilities available in the UK and Ireland."
The new centre will also provide a competitive range of flexible membership and customer schemes allowing easy and affordable access on a one-off or longer term basis so that everyone can enjoy the new facility in a way that suits their lifestyle and budget.
The new membership arrangements will give customers access to all eight council-owned indoor leisure facilities for £29.95 per month – a reduction from the current membership scheme.
Award-winning construction company Farrans has been spearheading the transformative build since initial enabling works got under way early in 2018, creating 500 jobs on site during construction as part of a project which has delivered at least £6.5 million in direct wages to the local economy.
As part of the preparations to pave the way for the official opening of South Lake Leisure Centre, interim arrangements have also been agreed for the planned phase-out of nearby leisure facilities in Portadown (Cascade Leisure Centre), Lurgan (Waves Leisure Complex) and Brownlow (Craigavon Leisure Centre).
These facilities, which are approaching the end of their functional life, will continue to remain open to the public until late June and into August to ensure a seamless transition and to accommodate staff training and orientation of the new centre.
Waves in Lurgan will continue to operate as normal until closing on Saturday 20th June. Craigavon Leisure Centre will remain open until Saturday 4th July and Cascades will remain open until Friday 14th August before SLLC opens on Saturday 15th August.
*Craigavon Watersports Centre will remain open at its current location as normal throughout the summer, migrating to the new leisure centre in September 2020.
For questions, queries or updates please email
The eagerly awaited shortlist has been announced for the 2020 Armagh, Banbridge & Craigavon Senior Sports Awards which will take place on Thursday 19 March at Craigavon Civic & Conference Centre.
Organised by the Armagh, Banbridge and Craigavon Sports Forum in association with Armagh City, Banbridge and Craigavon Borough Council and sponsored by Rushmere Shopping Centre, the awards recognise the wealth of sporting talent across the borough and celebrate the achievements of those who have excelled in their chosen sport.
Lord Mayor, Councillor Mealla Campbell, said, "With 38 shortlisted nominations across nine categories this is a superb indication of the abundance and vibrancy of sporting talent across the borough. Each nominee should be extremely proud of their achievements and I look forward to the awards ceremony to pass on my congratulations to all those shortlisted."
The following nominees have been shortlisted with the winners announced at the awards ceremony.
Category
Name (Sport)
Sports Person with a Physical or
Sensory Disability
Scott Cromie (Boccia)
Niall McVeigh (Para Badminton)
Chris Burns (Para Cycling)
Brian Leneghan (Visually Impaired Tennis)
Sports Person with a Learning Disability
Thomas Skelly (Alpine Skiing)
Jill Connery (Golf)
Sportswoman of the Year
Orla O'Connor (Archery)
Emma Mitchell (Athletics)
Kelly Mallon (Camogie, Gaelic Football
& Road Bowls)
Liz Dermott (Fly Fishing)
Courtney Morris (Karate)
Bethany Barr (Hockey)
Sportsman of the Year
Mark Nesbitt (Archery)
Mark Downey (Cycling)
Philip Doyle (Rowing)
Russell White (Triathlon)
Senior Team of the Year
Aghaderg GAC, Senior Camogie Team
Armagh Harps GFC, Senior Ladies Gaelic Football Team
Craigavon Aztecs Volleyball Club, Aztecs Eagles Mens Team
Dunbarton Bowling Club, Junior Team
Hanover Football Club, Senior Men's 1st XI
St Mark's Bowling Club, Fours Team
Tandragee Golf Club, Jimmy Bruen Team
Senior Coach of the Year
Steven Hyndes (Football)
Kevin Broderick (Karate)
Paddy McShane (Ladies Gaelic Football)
Callum Grieve (Volleyball)
Service to Sport
Deidre McGrath (Camogie/Gaelic Games)
Brian Cairns (Cycling)
Calvin Rowe (Rugby)
Volunteer
Paul Hannigan (Cycling)
Connor Campbell (Disability Sports)
Colin McDonnell (Karate)
Caroline Meenan (Rugby)
Club of the Year
Banbridge Golf Club
Craigavon Aztecs Volleyball Club
Dunbarton Bowling Club
Lurgan Rugby Football and Cricket Club
For further information contact Sarah Aiken, Assistant Sports Development Officer T: 028 3883 1690 or E: