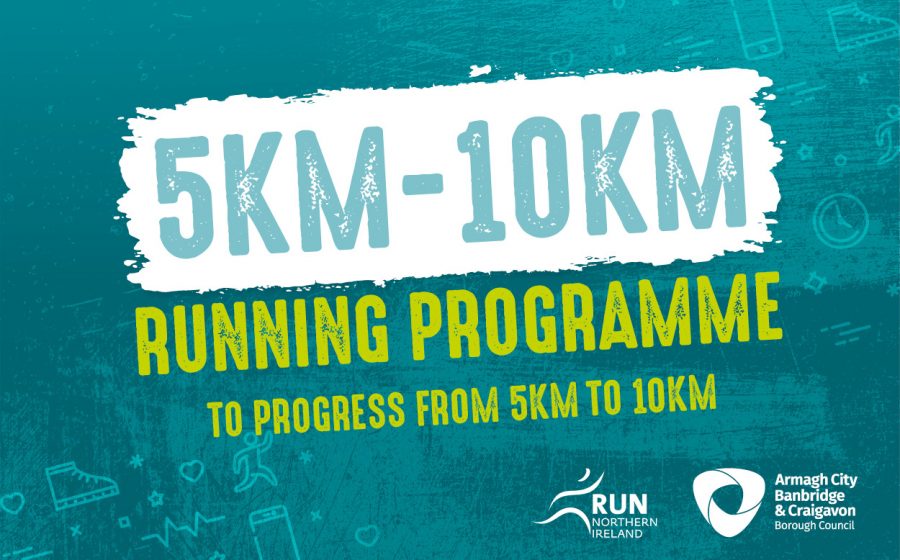 STARTING MONDAY 17th APRIL 2023!
Have you recently completed a Couch 2 5k programme, or can you comfortably run a 5km and would like to challenge yourself to run further, then the virtual 5km – 10km programme is perfect for you.
The virtual 5km – 10km programme is an 8 week guided virtual programme to support runners to increase their running distance from 5km to 10k, with participants aiming to complete the Craigavon Lakes 10k on Wednesday 7th June. The programme is free to all residents of ABC Council as part of the Get Moving ABC initiative, however there is a separate entry fee to enter the Craigavon Lakes 10k event.
Each week, participants will receive an email with their training programme for the upcoming week and will have access to support from qualified coaches. The programme involves three runs per week and you can run at a time and place convenient to you.
There is no set pace that you must run at, the aim is to be able to maintain an effort for a period of time that will gradually increase over the weeks, culminating in a 10km run. We are encouraging all participants to sign up for the Craigavon Lakes 10k as their graduation run.
So grab your trainers and sign up for the programme!
For further information, please contact Amanda Mogey, Project Officer at
FAQ's
Who to contact for more information?
Health & Safety Considerations to plan for before your run?
These sessions are completed at your own risk please take into consideration the location you choose to run at in certain weather conditions at this time of year. If you have any health concerns about beginning an exercise regime, make an appointment to see your GP and discuss it with them first.
How do I enter the Craigavon Lakes 5k & 10k Event?
Details of how to enter will be emailed to all participants on the programme once the event is launched and open for registrations.