Armagh City, Banbridge and Craigavon Borough Council has signed-off plans for the new super leisure centre at the South Lakeshore, Craigavon and has applied for planning permission
With a target date for completion in the spring of 2020, the South Lakes Leisure Centre incorporates a state of the art design and will have something to offer to everyone.
After extensive discussion with Councillors and a further round of talks with a wide range of organisations and people, the design team has carefully redesigned the building, effectively time-proofing it for future generations.
With an agreed budget of over £30m, the new leisure centre is the largest project in the Council's ambitious capital investment programme and a landmark for Craigavon. It will significantly enhance the Borough's leisure offering and be at the forefront of indoor and outdoor leisure provision in N.I.
Situated at the site of the existing Watersports Centre, adjacent to Craigavon's Civic & Conference Centre, there will be a varied range of indoor and outdoor facilities providing opportunities for locals, families and serious athletes alike.

The centre comprises a 50m main pool (with moveable floor level), fun pool, a separate teaching pool, the largest gym in Northern Ireland, an 8-court sports hall suitable for several indoor sports, a range of studios including a dedicated spin room and dance studio, an open hub space with café and soft play area, two squash courts and an outdoor watersports adventure centre.
"I'm delighted to say that we've agreed a new interior design for the leisure centre", comments Lord Mayor Alderman Gareth Wilson, "yes it's taken time but Council wanted to and needed to make sure that this centre would meet residents' requirements for many years to come."
"It's a very ambitious build and represents many months of planning, extensive consultation, revisions and further consultation. Council has carefully considered residents' points of view and has come up with a centre that local people will get something from it and enjoy for many years to come".
The Centre will be designed to the highest inclusive standards, achieving Disabled Sport NI ISF 'excellence' status.
The Centre will also use the latest technology to make the building and the services it offers as energy efficient and as sustainable as possible.
Council is committed to high levels of spend within the local market and small to medium sized enterprises; this project will provide significant employment opportunities for local residents and businesses.
Consequently Council has commissioned Farrans Construction through the Scape Procure National Construction Framework to build the new leisure centre. A core component and ethos of the Scape procurement system involves engaging with approved local businesses, sub-contractors and suppliers.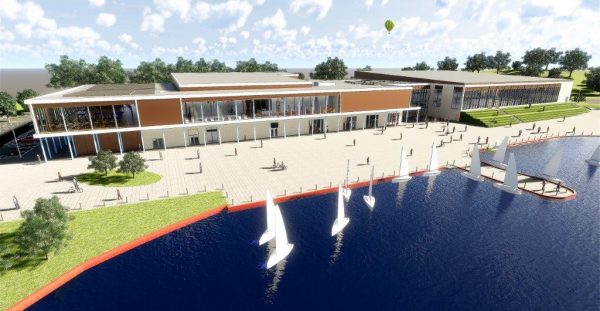 The South Lake Leisure Centre planning application is being considered by the Planning Committee in the very near future, with the outcome of that application anticipated later this year. It is expected that work on the much-awaited project will start in January 2018.
The first stage of the project will involve the temporary relocation of the current Watersports Centre moving it to the old pier beside Craigavon Civic and Conference Centre.
Access around the Lakes for walkers and cyclists will be maintained both during and after the building of the facility. The very popular Park Run has moved to Tannaghmore Gardens as the group has expanded and parking for the runners at the South shore was limited.
Meanwhile Council is proactively working to regenerate the sites on which the three existing leisure centres are based. Each will remain open until the new leisure centre is completed.
Congratulations to Chloe Stoops, winner of the Water Safety competition which was done as part of the Drowning Prevention activities at Richhill Recreations Centre's Summer Scheme . The prize, RLSS Water Bottle and a set of Rookie Lifeguard Lessons in the Orchard Leisure Centre, was presented by the Lord Mayor of Armagh, Banbridge & Craigavon Borough Council, Councillor Gareth Wilson; also included in the picture is Mark Wilson, Chairperson of Royal Life Saving Society, Northern Ireland Branch.
Armagh City, Banbridge and Craigavon Borough Council are making a splash with the return of the £1 Junior Swim offer at leisure centres across the borough.
Banbridge Leisure Centre, Cascades Leisure Centre, Craigavon Leisure Centre, Orchard Leisure Centre and Waves Leisure Complex will all be providing the popular deal which allows children and young people living in and around the borough to enjoy a swimming session this summer for just £1.
Speaking at the launch of the scheme at Banbridge Leisure Centre, Deputy Lord Mayor, Councillor Sam Nicholson said: "It is fantastic that the council are once again offering this opportunity for young people. Not only is it a great value for money activity allowing you to spend a day with friends and family it is also a wonderful way to stay active and keep fit during the summer holidays. Also as a former lifeguard at the Orchard Leisure Centre in Armagh I fully understand the importance of young people being able to swim so I welcome the council continuing this excellent incentive.
The £1 Junior Swim will run from the 1 July until 31 August 2017 and is available for anyone under the age of 18. Children under the age of eight are not permitted to use the swimming pool without being accompanied by an adult. Children aged four and under can swim FREE at any of the Armagh City, Banbridge and Craigavon Borough Council pools all year round.


Swim times and pool opening hours for all participating centres are available online at www.getactiveabc.com or alternatively contact any of the leisure facilities directly at Banbridge Leisure Centre T: 4062 8800, Cascades Leisure Centre T: 3833 2802, Craigavon Leisure Centre T: 3834 1333, Orchard Leisure Centre T: 3751 5920, Waves Leisure Complex T: 3832 2906.
Children from Richhill Recreation Centre's Summer Scheme who attended a Safety Session provided by NI Networks on the dangers of overhead powerlines, substations and pylons.
Outdoor activities at Craigavon Watersports and Golf Ski Centres
The key benefits of establishing outdoor activities as an important part of your child's life have a wide range of benifits across health ,social and wellbeing areas. By undertaking adequate outdoor activity you will see an increase in health and physical development by improving sensory development, reducing obesity and stimulating blood cells.
In an age, where children are so tech savvy, it can be challenging for parents to take children away from television, computers and video games.
On top of that only 30% of the UK population are active enough.
Craigavon Watersports and Golf Ski Centre Children's Summer Activity Days and Weeks.
Staff at the centers make outdoor activities fun according to your child's interests. In doing so children slowly learn the importance of the great outdoors. In the longer term people can carry on been active in the outdoors long after involvement in traditional competitive ball sports end.
How we match our activity's to the main benefits.
Health benefits
Outdoor activities help children stay fit and active which will benefit them in the long run. This can ward off health problems like obesity and heart ailments later in life. Some children frequently fall ill, being active in life will helps children stay healthy, feel hungry and have meals on time. Also being active helps children feel tired by the end of the day so they will sleep on time too!
Outdoor activities provide a physical element which raises the heart rate and burn calories, sports such as Tubing, Canoeing and cycling all achieve this.
Makes them competitive/ set targets & goals
When children play outside, they gain a sense of mastery and competency skills. Learning a new skill like climbing can help build a childs confidence. Playing games with a winner helps kids develop developing winning spirit.and boost self-esteem as well.
Archery, Footgolf and Climbing all have an element of competiveness by beating their own previous score, height gained or group winner.
Learning working in groups / social skills
When kids play with other kids, they learn to interact in groups, learn building strategy to win. They learn to adjust with kids of different temperament. This will help them when they grow up, in both their professional and personal life. Often when kids play, they have a lot of loud interactions and physical movements with other kids. On our summer activity days quite often they will not know the other kids they have to play with and that helps them develop social skills. They learn to be cordial and try and work well in groups often developing qualities like leadership and co-operation. They learn to interact with other children, often bonding over games and developing long lasting friendships.
We understand children like adults need to let of a of steam and make a bit of noise. This is achieved in a safe manner by staffs understanding of a child's ability and understanding whilst all the time closely monitoring safety. Our activities like Aqua Park, Banana Boating and Tubing are particularly good for group work
Giving a sense of freedom
When kids play outdoors, adults are generally more lenient with them. With this sense of freedom children feel more enthusiastic, energetic and want to discover themselves.
Activities such as Sailing single handers and Snow Skiing are a favorite with kids and give a great sense of achievement and independence.
Learning to appreciate nature
Parents should take their kids for treks and nature camps. They will understand nature and science better. Helping them relax and sooth all five senses as well as teaching kids to respect nature.
Our Canoeing, climbing activities and Leave No Trace ethos helps them to understand and develop a love of nature.
"What do to for Boys and Girls" now available
The hugely popular activity booklet 'What to do for Boys and Girls' is now available online from Friday 26 May.
Parents thinking about how to keep the kids entertained over the summer months will be able to go and check out the wide range of activities on offer in the Craigavon area.
Produced by Armagh City, Banbridge and Craigavon Borough Council, the booklet has now been available online for three years and continues to help parents find out about activities, allowing them to get prepared and organised for the long summer months.
The family activities run from June right through to September, with fully qualified coaches and leaders, offering children fun and enjoyable summers schemes as well as the chance to improve their sporting or artistic skills.
With dance academies, judo, cricket, gymnastics, rowing, trampolining, Gaelic games, volleyball, tennis, water sports, soccer, events in the parks, art classes, family fun days and so much more there truly is something for everyone!
'What to do for Boys and Girls' can be viewed at getactiveabc.com/homepage/get-active/ or contact Sports Development on 028 38311690 for further assistance.
Please use the search bar on the right handside of your screen to find activities in the What to do for Boys & Girls Summer 2017 Booklet
Spring is in the air and with it comes the great news of Armagh City, Banbridge and Craigavon Borough Council's 'egg-stra' special activity programme during the Easter holiday period.
Organised in conjunction with the Every Body Activity 2020 Programme and Angling First Ltd, the programme offers the opportunity for people across the borough to take part in a wide variety of fun and exciting recreational activities.
Running from Wednesday 19 April to Friday 21 April 2017 this year's programme serves up a selection of sports courses including angling, dance, multi sports (which may include dance, football, gaelic games, volleyball, and racquet sports) and squash.
Courses will be held in a number of council facilities including Banbridge Leisure Centre and Dromore Community Centre.
Visit here to book