Construction work on state-of-the-art leisure complex progressing well after steel frame installation
Construction of a new, state-of-the-art £35 million leisure centre in Craigavon is advancing fast and is on course for phased completion in 2020.
With the steel frame structure now firmly installed on the dry side of the building – providing an anticipatory glimpse of how the structure will look on completion – foundation works to create the new 50-metre gala swimming pool are now well under way.
The latest build milestone paves the way for a series of key installations in quick succession, including the creation of two additional pools, an eight-court sports hall, studio spaces, squash courts and an indoor children's soft play area.
Tandragee-based concrete and piling firm Taranto installed the 1,000 concrete piles needed to support the 415-tonne steel frame on the dryside of the building, supplied and installed by Walter Watson, a family firm based in Co Down.
Once complete, the new leisure centre will also be home to a world class 1,000m2 gym – the largest available anywhere in Ireland – as well as an extensive outdoor water-sports provision, traditional best-in-class fitness facilities and fluid open spaces including a café and studios, which have been designed to meet community and visitor needs.
Lord Mayor of Armagh City, Banbridge and Craigavon, Cllr. Julie Flaherty, said:
"A flagship project creating at least 500 jobs on site, with more to follow, this is a pivotal moment in the development of this new and exciting leisure facility, which has been designed to transform the health, wellbeing and quality of life for residents and visitors for generations to come."
The new centre will be among the first in Northern Ireland to feature 'Pool Pod' platform lifts, designed as a legacy of the 2012 London Olympics and Paralympics to improve pool access for people with disabilities and the less mobile.
This follows a major partnership with Disability Sport NI to deliver a flagship leisure centre which supports the development and long-term sustainability of sports and leisure programmes for people with disabilities. Working with Disability Sport NI, the Council has ensured that access and facilities have been prioritised and advanced from design through to completion.
Farrans, one of the UK and Ireland's leading construction firms, is spearheading the contemporary new build and has a long track record of delivering successful projects, including Bangor's award-winning Aurora leisure centre, Victoria Square shopping centre in Belfast and Craigavon Area Hospital.
The project was procured via the Scape Major Works framework, which has since been superseded by the Scape National Construction framework. Configured to deliver construction projects across the length and breadth of the United Kingdom, the frameworks performance management processes ensure Farrans is working directly with local suppliers, contractors and the wider community.
Mark Robinson, Scape Group Chief Executive, said;
"We are pleased to see Craigavon's new leisure centre taking shape. It has taken tremendous effort from Armagh City, Banbridge and Craigavon Borough Council to create an exciting facility that will be accessible to all, and encourage a healthier lifestyle for the local community.
"Creating social value and delivering community benefits is embedded throughout our frameworks. As well as ensuring a maximum spend on local labour and SME engagement, the project will also drive long-term economic benefits through the provision of training, upskilling and employment opportunities for the local community. We look forward to seeing this project evolve in the coming months."
Craigavon spearheads £30m world class leisure centre after planning go-ahead
Planning permission granted for new multi-million-pound leisure development will deliver first class facilities for a new era of better health, wellbeing and sporting ambition
Craigavon's new state-of-the-art £30 million leisure centre plans have been given a seal of approval by the local planning authority, paving the way for a construction start date early next year and full access for all in 2020.
The long-awaited proposal, first put forward in 2010, is part of a wider and ambitious regeneration programme across the Armagh City, Banbridge and Craigavon Borough area.
The biggest capital project ever undertaken by the Council, the new leisure centre will provide an enhanced facility to improve the quality of life and wellbeing of the whole Borough. The centre will be unique in in the region, offering indoor and outdoor leisure experiences from a single site.
The facility, which will be situated at the site of the existing Watersports Centre, adjacent to the Civic & Conference Centre and overlooking the South Lake, features an impressive eight-lane, 50-metre swimming pool, a teaching pool, fun pool and a spectator gallery.
Once complete, Craigavon will host one of the largest gyms on the island of Ireland, with visitors enjoying panoramic views. Customers will have state-of-the-art equipment, spin and dance studios, an extensive health and beauty suite, activity rooms, squash courts and a large sports hall suitable for a variety of sporting activities.
Lord Mayor of Armagh City, Banbridge and Craigavon Borough, Alderman Gareth Wilson, said:
"With planning consent firmly secured, work can now start to create a brand new, modern leisure facility which meets the needs of everyone, creating new and exciting opportunities for individuals, families, schools and sporting enthusiasts who can realise their fitness, lifestyle or professional goals in a world class facility that fully supports their needs.
"Full planning approval represents a tangible and rewarding step towards an official opening date and I'm delighted that this puts the project in delivery mode, ensuring that everyone – with all levels of fitness and ability – will soon have the opportunity they need to make a marked difference in improving their health ambitions in the best facilities available."
In addition to the staff that will run the facility, the project will create more than 500 jobs during the construction phase. The construction phase alone is also expected to deliver an estimated £6.5 million in direct wages to the economy, apprenticeships, work placements and job opportunities for the local community.
Disabled Sport NI 'excellence' status is expected to be granted once the building is constructed given the enhanced accessibility provision incorporated into the design. It will also deploy the latest technology to make the building and the services it offers as energy efficient and as sustainable as possible.
"The new leisure centre plans are ambitious, forward-looking and are eagerly awaited, representing years of planning, extensive consultation, revisions and further consultation," added Gareth Wilson. "Carefully considered with extensive feedback provided by residents, clubs and associations, I'm thrilled that everyone can now benefit from this significant investment."
For further information, and regular updates, visit www.getactiveabc.org/south-lake-leisure-centre.
Armagh City, Banbridge and Craigavon Borough Council has signed-off plans for the new super leisure centre at the South Lakeshore, Craigavon and has applied for planning permission.
With a target date for completion in the spring of 2020, the South Lakes Leisure Centre incorporates a state of the art design and will have something to offer to everyone.
After extensive discussion with Councillors and a further round of talks with a wide range of organisations and people, the design team has carefully redesigned the building, effectively time-proofing it for future generations.
With an agreed budget of over £30m, the new leisure centre is the largest project in the Council's ambitious capital investment programme and a landmark for Craigavon. It will significantly enhance the Borough's leisure offering and be at the forefront of indoor and outdoor leisure provision in N.I.
Situated at the site of the existing Watersports Centre, adjacent to Craigavon's Civic & Conference Centre, there will be a varied range of indoor and outdoor facilities providing opportunities for locals, families and serious athletes alike.

The centre comprises a 50m main pool (with moveable floor level), fun pool, a separate teaching pool, the largest gym in Northern Ireland, an 8-court sports hall suitable for several indoor sports, a range of studios including a dedicated spin room and dance studio, an open hub space with café and soft play area, two squash courts and an outdoor watersports adventure centre.
"I'm delighted to say that we've agreed a new interior design for the leisure centre", comments Lord Mayor Alderman Gareth Wilson, "yes it's taken time but Council wanted to and needed to make sure that this centre would meet residents' requirements for many years to come."
"It's a very ambitious build and represents many months of planning, extensive consultation, revisions and further consultation. Council has carefully considered residents' points of view and has come up with a centre that local people will get something from it and enjoy for many years to come".
The Centre will be designed to the highest inclusive standards, achieving Disabled Sport NI ISF 'excellence' status.
The Centre will also use the latest technology to make the building and the services it offers as energy efficient and as sustainable as possible.
Council is committed to high levels of spend within the local market and small to medium sized enterprises; this project will provide significant employment opportunities for local residents and businesses.
Consequently Council has commissioned Farrans Construction through the Scape Procure National Construction Framework to build the new leisure centre. A core component and ethos of the Scape procurement system involves engaging with approved local businesses, sub-contractors and suppliers.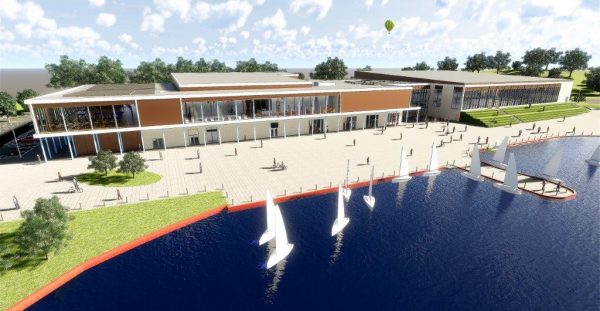 The South Lake Leisure Centre planning application is being considered by the Planning Committee in the very near future, with the outcome of that application anticipated later this year. It is expected that work on the much-awaited project will start in January 2018.
The first stage of the project will involve the temporary relocation of the current Watersports Centre moving it to the old pier beside Craigavon Civic and Conference Centre.
Access around the Lakes for walkers and cyclists will be maintained both during and after the building of the facility. The very popular Park Run has moved to Tannaghmore Gardens as the group has expanded and parking for the runners at the South shore was limited.
Meanwhile Council is proactively working to regenerate the sites on which the three existing leisure centres are based. Each will remain open until the new leisure centre is completed.