Newry Portadown Canal Towpath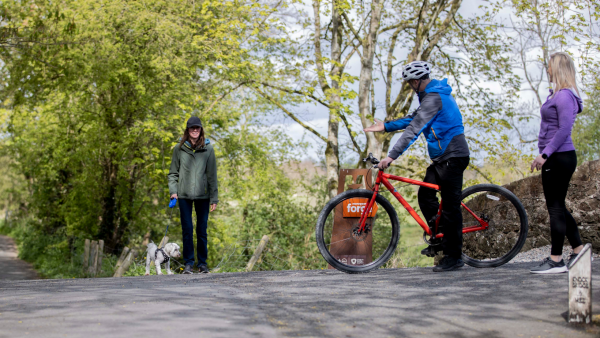 The Newry-Portadown Canal Towpath is a fantastic asset for the people of our borough – a place to slow down, unwind, to enjoy nature and get outdoors.
This shared use relies on everyone:
Being considerate towards each other
Taking responsibility for their own actions (taking reasonable care to behave in a way which does not cause harm to yourself or others)
Caring for the environment
By working together, we can achieve a safe and friendly environment for all users to enjoy.
Share a Great Space - Code of Conduct - Key Messages
History of the Canal
The Newry Portadown Canal, which together with the Upper Bann River, links Lough Neagh/Portadown to Newry/Carlingford Lough, was built in the 1730s originally to convey coal from collieries near Coalisland, Co Tyrone, to Dublin.  It opened in 1742 and was the first summit level canal in the British Isles.
As the railway network developed in the 19th century, canals were gradually superseded as a means of transport for heavy goods and most of the inland section of the canal was closed in 1936 and officially abandoned in 1949.
The canal and towpath eventually came into the ownership in the latter part of the 20th century of the 4 Council's (prior to the review of council boundaries and amalgamations in 2015) along its length.  Working together extensive efforts were made to acquire funding assistance to enable its restoration to a working leisure waterway but sadly these have not been successful to date.  However, over the years the towpath was brought into public use and upgraded assisted by EU and Sustrans funding and it is now in the ownership of Armagh Banbridge Craigavon BC and Newry Mourne and Down DC.
The many benefits of the canal and towpath as a recreational and wildlife resource are increasingly recognised with the towpath forming a section of the Ulster Way (as the Newry Canal Way) a long distance footpath and the National Cycle Network's Route 9 and in receipt of a Green Flag Award.
In 2022 the Council completed work to restore the floors of 4 of the locks along the canal essential to the stability of the walls of the lock chambers, similar work having been completed at Moneypenny's Lock several years ago.  Volunteers from the Inland Waterways Association (IWAI) assist with the maintenance of the amenity and lobby for its restoration.  They have produced an excellent digital self-guided tour giving the history of the canal illustrated with historic photographs and maps.