UEFA Super Cup visits Carrick Primary School!
July 10, 2021
It's not everyday that you get to see the UEFA Super Cup Trophy in the flesh – or get your photo taken with it!
But, children at Carrick Primary School in Lurgan had that opportunity on their last day of term!
The UEFA Super Cup Final between Chelsea and Villareal will be taking place at Windsor Park in August, so the Cup has been on tour – and Carrick Primary was chosen as one of the stop-offs!
There was a lot of excitement from both adults and children as they laid eyes on the precious trophy – and the Deputy Lord Mayor, Councillor Jackie Donnelly was delighted to welcome the Irish Football Association representatives to the borough!
Football is most definitely a popular sport for children and young people within our borough and there are plenty of opportunities to play with our Getactive Shake Up Summer Programme.  Enjoy the beautiful game at our Crazy Summer Schemes, Shake Up Summer MUGAS, Street Soccer and Girls Soccer Camps and other sports programmes taking place across the borough!
"How exciting to have the UEFA Super Cup paying a visit to Lurgan!" commented the Deputy Lord Mayor of Armagh City, Banbridge and Craigavon.
"I was thrilled to be able to come along to Carrick Primary School to welcome the IFA and the trophy to the area – and the excitement of the children was contagious! There was clearly lots of football fans in the assembly hall! After a very unsettled year, events like this are even more special than ever and it was just a fabulous morning to be part of!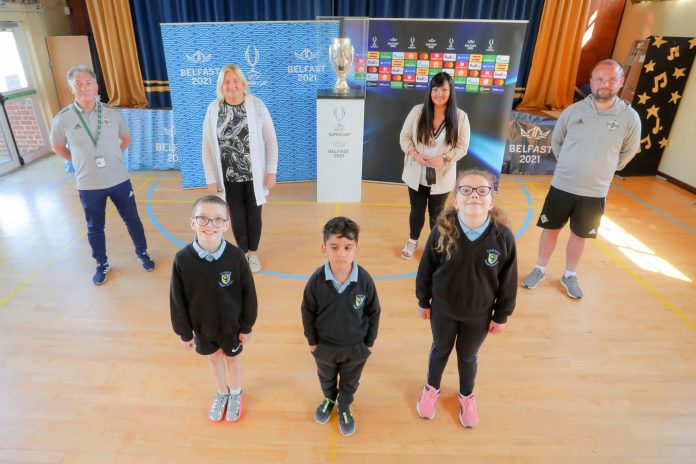 Carrick Primary School Pupils show off the UEFA Super Cup with Ken Duncan, IFA, Alison Lindsay, Principal Carrick Primary School, Councillor Jackie Donnelly, Deputy Lord Mayor and Andrew Hardy, Let Them Play Officer with the UEFA Super Cup at Carrick Primary School.