GET HOPPING INTO A GETACTIVEABC EASTER
Your little thrill-seekers can hop into action with a cracking getactiveabc Easter 2023 programme. The longer days mean hours of playtime during the Easter holiday and, with plenty of fun-filled events and family activities, it's not just nature that will be bursting into life!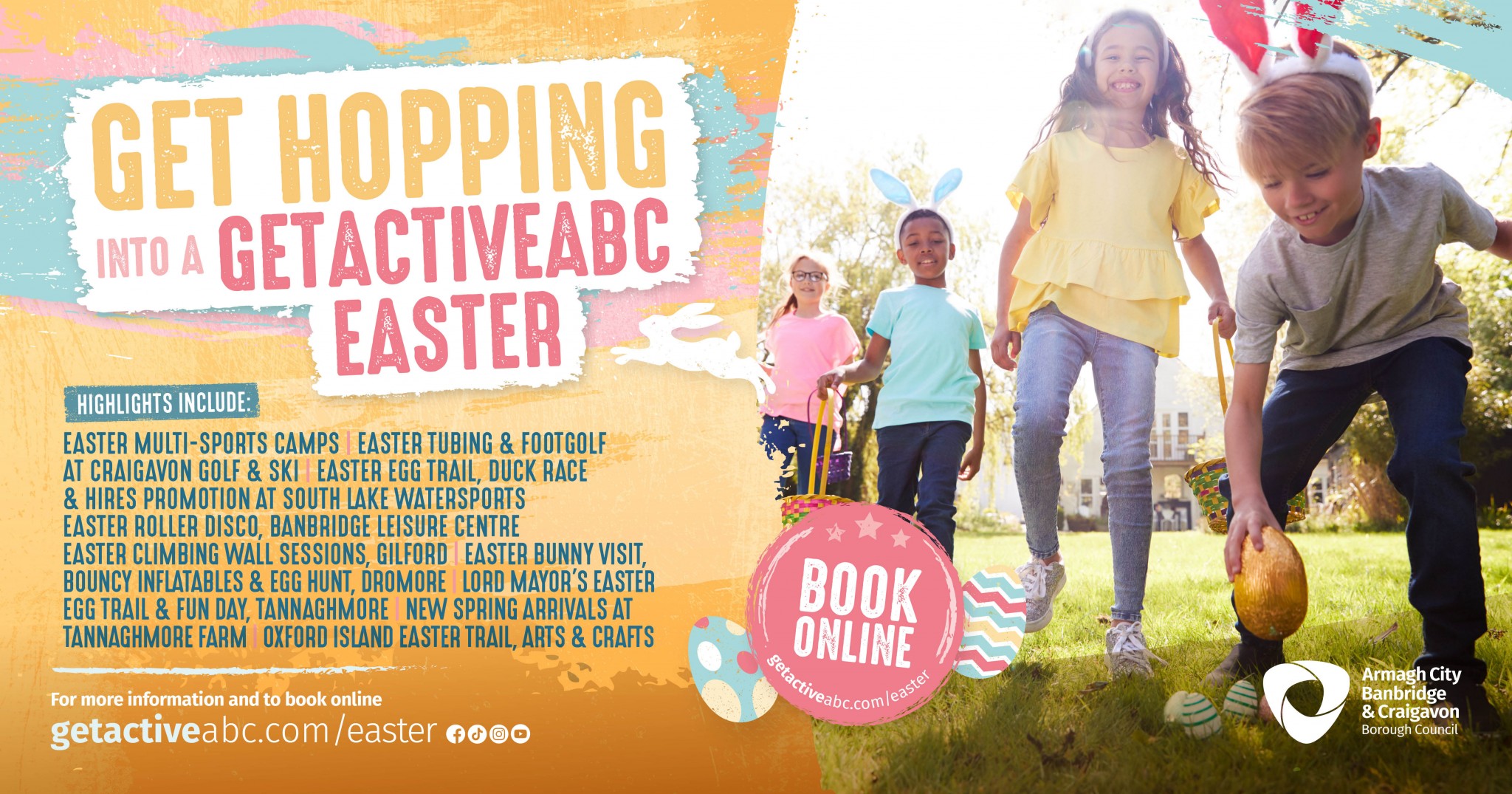 GETACTIVEABC EASTER EVENTS
SOUTH LAKE GREAT EASTER DUCK RACE, ARCHERY & BOAT TRIP, EASTER TRAIL & HIRE OFFER
SOUTH LAKE WATERSPORTS, CRAIGAVON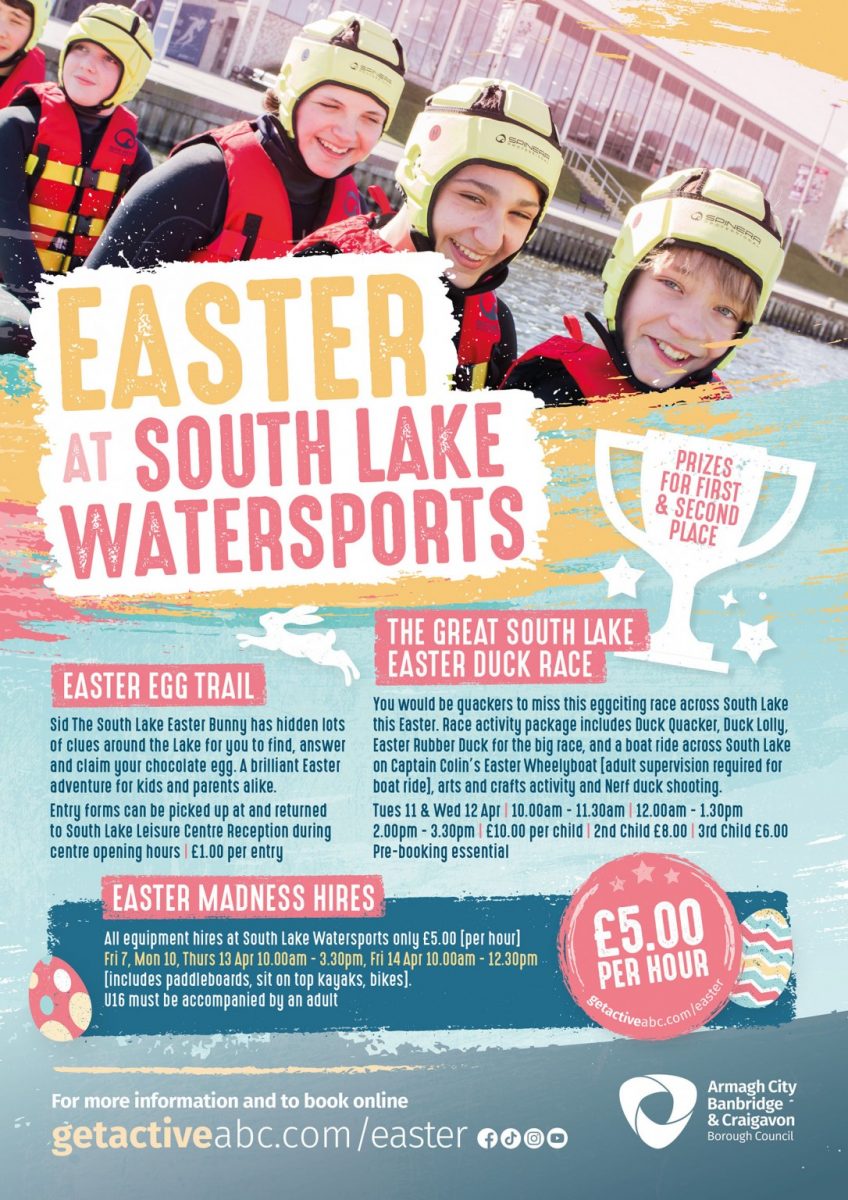 EGGCITING EASTER ACTIVITY SPECIAL & SNOW MUCH FUN INDIVIDUAL & FAMILY EASTER TUBING
CRAIGAVON GOLF & SKI CENTRE
EASTER BUNNY VISIT, INFLATABLES & EGG HUNT
DROMORE COMMUNITY CENTRE
EASTER MULTI-SPORTS SCHEMES
TAKING PLACE IN CENTRES ACROSS THE BOROUGH
EASTER ROLLER DISCO & CAFE INCREDABLE EASTER DELIGHTS
BANBRIDGE LEISURE CENTRE
OXFORD ISLAND PLAYPARK, EASTER TRAIL & ARTS | CRAFTS
OXFORD ISLAND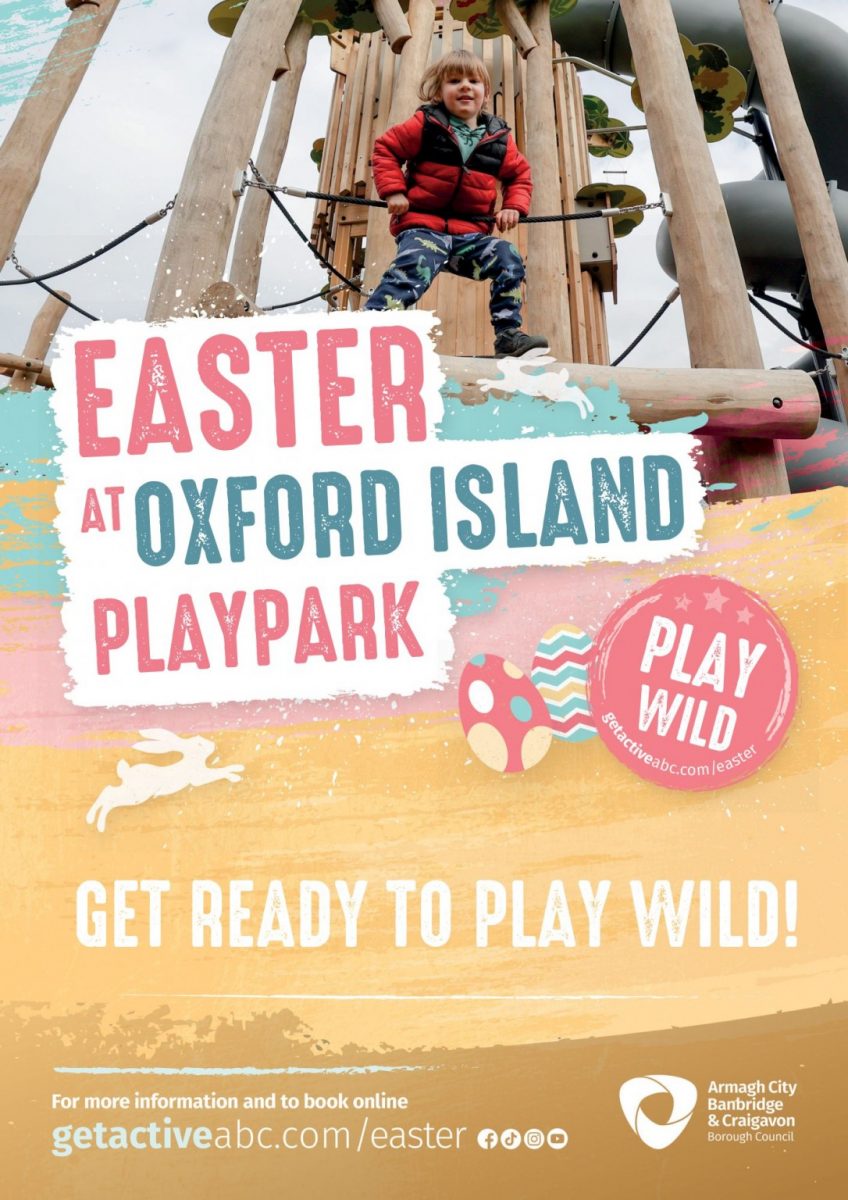 EASTER BUNNY VISIT, INFLATABLES & EGG HUNT
RATHFRILAND COMMUNITY CENTRE
EASTER CLIMBING ADVENTURE
GILFORD COMMUNITY CENTRE
LORD MAYOR'S EASTER EGG TRAIL
TANNAGHMORE GARDENS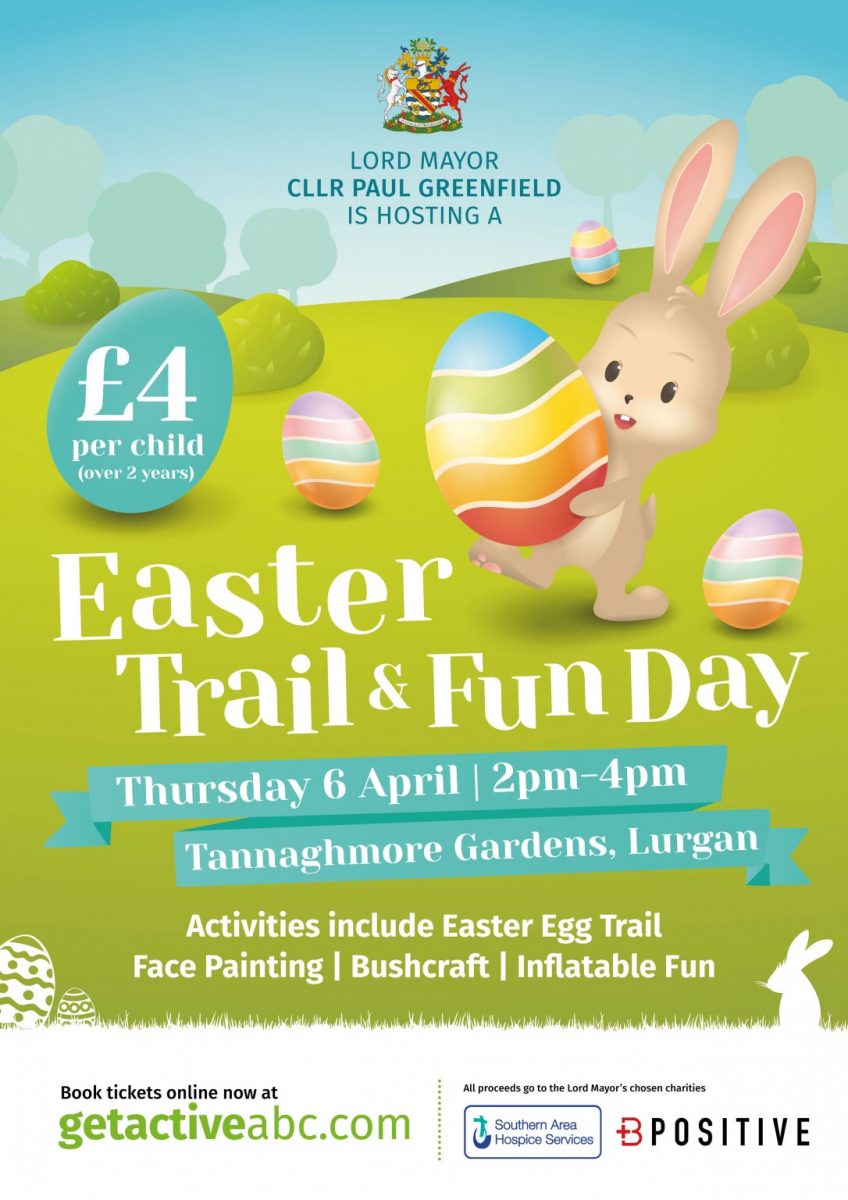 MORE EASTER ADVENTURE
Easter is a great time to get outdoors and experience our parks. The trees are at their greenest, bird song is at its noisiest. The daffodils are in full blaze, the hedgerows and woodlands are enjoying a first flush of colour, and May's wild garlic and bluebells are on their way. Here are a few more ideas for a great family outing this Easter: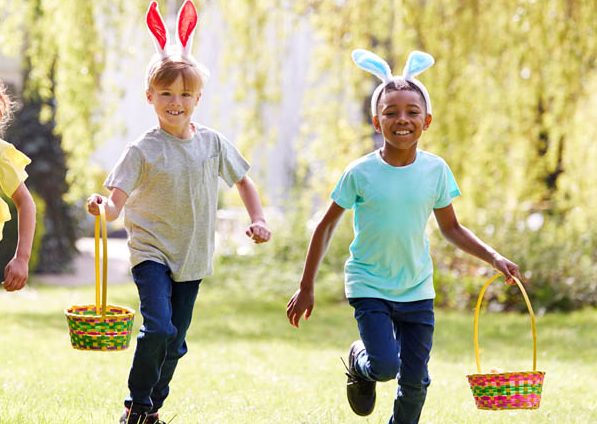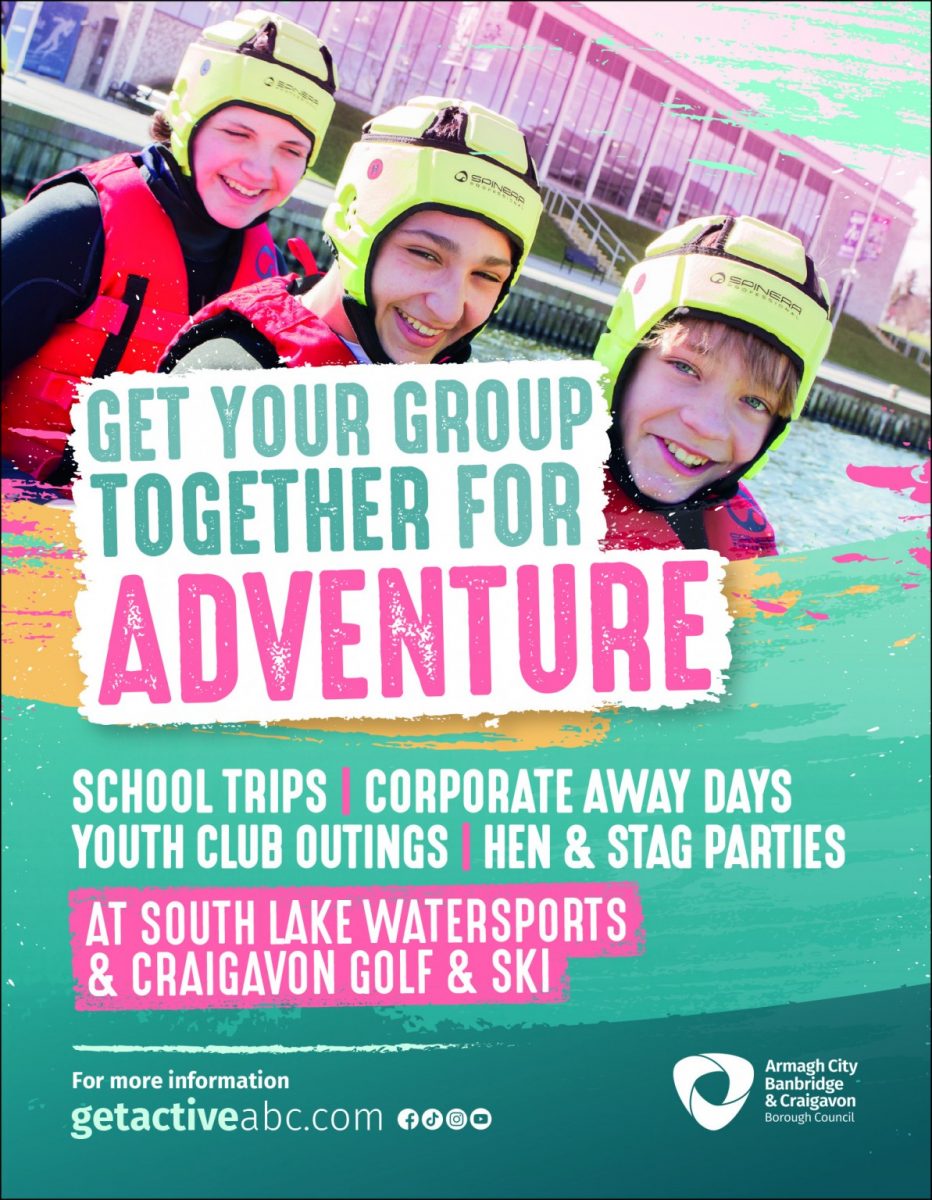 From a youth club trip to a hen and stag party, South Lake Watersports, Craigavon and Craigavon Golf & Ski Centre can tailor a group package to suit everyone. Choose from a range of water and land-based activities, half day, full day or  joint packages across both venues. Food and refreshments from our onsite restaurants, Cafe IncredABLE at South Lake or The Alpine Lodge at Craigavon Golf & Ski, will keep your group energised and free onsite parking is available at both venues.
The teams at both venues are committed to providing schools with fantastic ideas and options for their students to learn outside of the classroom and experience the great outdoors, building their confidence, co-operation skills and resilience.
If you are interested in organising a school spring or summer trip, a group outing or just a girls' day out, please contact and visit our webpages below for more information about the activities on offer.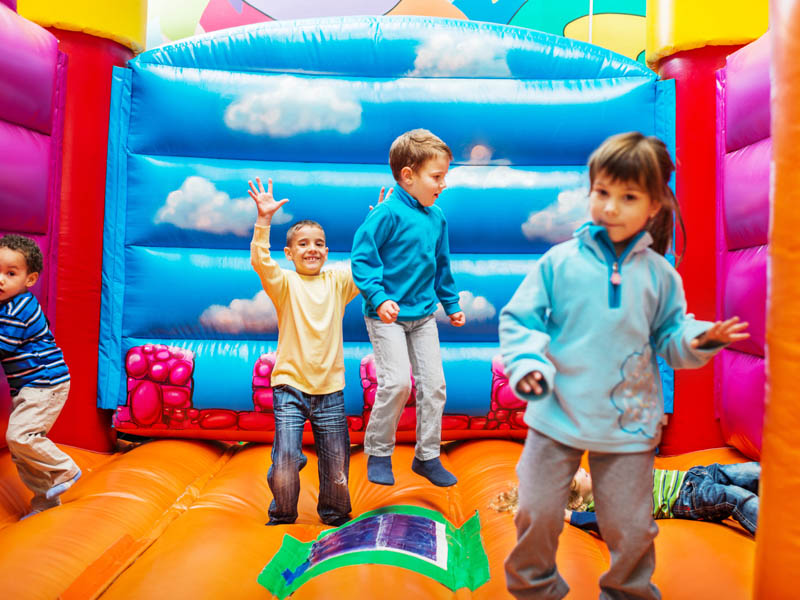 Getactiveabc offer a wide range of party options, from indoor and outdoor soccer to bouncy castle play, from snowtubing to wall climbing and NERF guns.
We will be launching new watersports party packages at South Lake Watersports, Craigavon and bushcraft parties at Kinnego Bushcraft Centre this spring. Keep an eye on our getactiveabc Facebook page.
SOUTH LAKE CORPORATE TEAM BUILDING AWAY DAYS AND MEMBERSHIP PACKAGES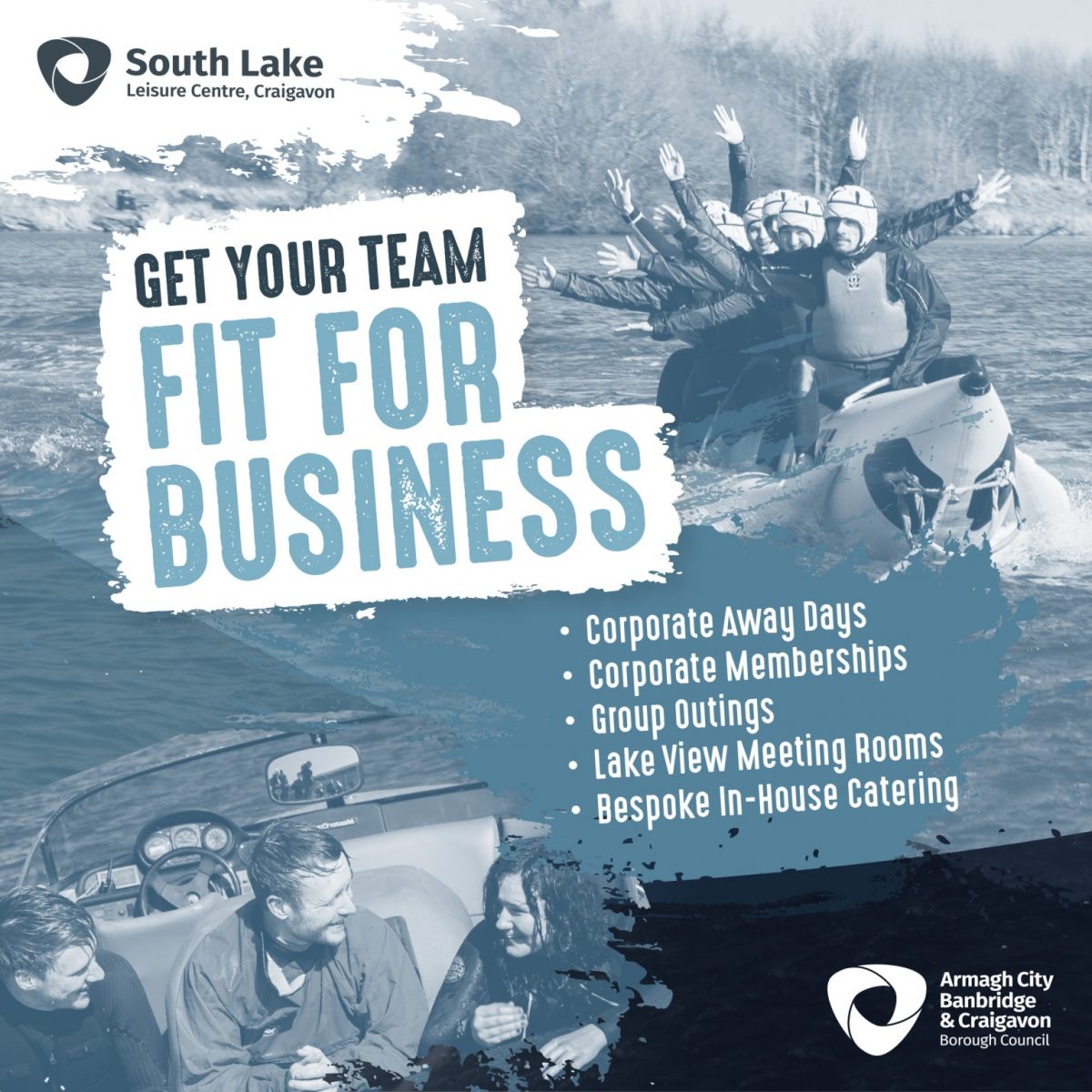 At South Lake Leisure Centre, we want to take care of your most important business asset, the people in your business. 
South Lake Watersports, Craigavon can develop tailored corporate packages for team building activities to suit everyone, full or half days playing together on the water and/or land! In addition to extensive changing facilities. South Lake Leisure Centre has top-quality meeting rooms for hire and Cafe Incredable at South Lake offers a bespoke catering service.
With no costs to the employer, everyone is a winner with a Getactiveabc Corporate Membership. With access to nine leisure centres across the borough including the facilities on offer at South Lake – gym, cycle studio, extensive class programme, pools, squash courts and other racquet sports, climbing wall at Gilford, a corporate membership can improve staff morale by encouraging time away from the office to re-energise and care for physical and mental health and wellbeing.  
GET FIT AND BEACH READY FOR SUMMER WITH GETACTIVEABC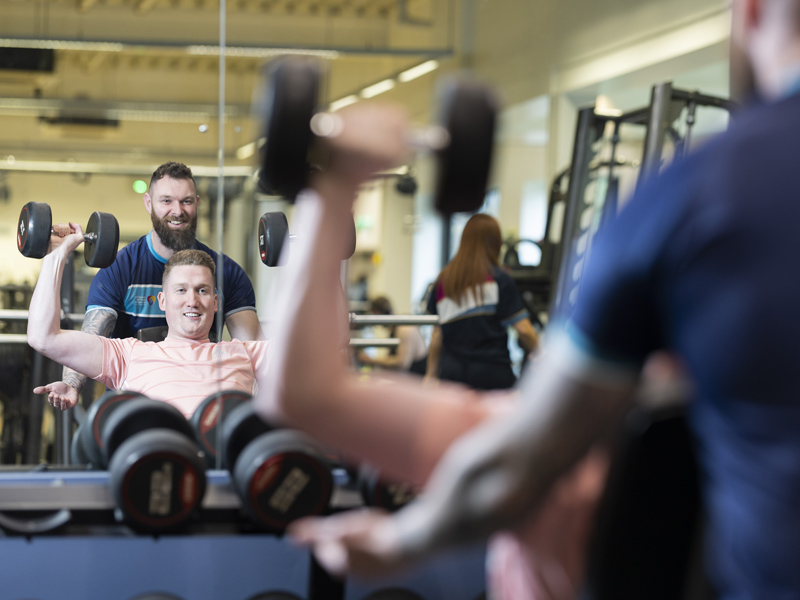 With summer on its way, our Fitness Advisors can help you achieve those fast fitness results. You can make a lot of progress in three months with specific, realistic fitness goals and advice on the right exercises and diet so you can get the summer-fit body you've always wanted.
The team at getactiveabc is here to help, whether you want to try before you buy with a tour of our facilities, get some advice about the membership package or fitness programme that is right for you, or you just want supported to feel good ahead of the summer holidays, get in touch and we will take care of the rest.